Please Note:  Serial number will be made available after the order is placed.  To access your serial numbers, make sure that you are logged in and click on Order Status.  Click on the applicable order number - serial numbers are listed on the online invoice.  No physical product will be shipped. 
Click Here To Download (Opens in a new window - Direct link to Embrilliance Download Page)
Your embroidery files WITHOUT the Embrilliance Thumbnailer. The file names are plain and non-functional!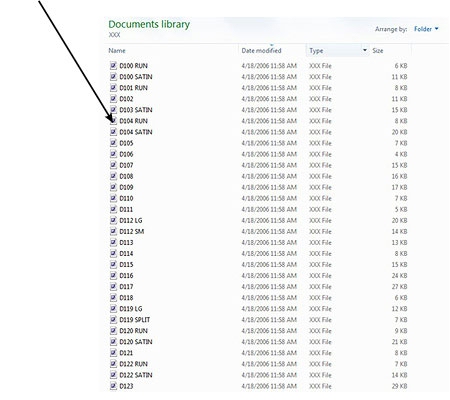 Now your creativity and productivity will flourish! With the Embrilliance Thumbnailer, you can actually SEE the embroidery designs! No more guessing what "Butterfly.pes" or any of your designs look like anymore!
Imagine yourself clicking on your My Documents folder. Then you click on a folder where you store you very large library of embroidery designs. (We know you have a large stash!) In the past, you would see a list of file names but no preview. Finding the embroidery designs was a challenge. How can your creativity flourish under such restrictive conditions? All you really want to do is find the perfect design from your library for your next embroidery project.
Wow! Preview Designs!
After installing the Embrilliance Thumbnailer software, I opened up a folder labeled Butterfly, where I store one of my favorite butterfly designs. I click on the file, and am able to preview the design on the right of the screen!
Wow! Control how you want to preview!
This software not only lets you preview the designs but you can control how you preview them! Take advantage of the preview options built into Microsoft Windows-like Extra Large Icons, Large Icons, Tiles and more!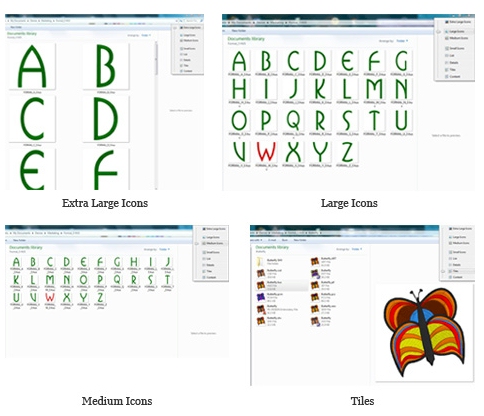 This software is a must-have embroidery tool for every machine embroiderer. Simple to install and even easier to use, you'll wonder how you ever functioned without it.
View the following embroidery design files:
ART, ART42, ART50, ART60, CND, CSD, DST, EMB, EMD, EXP, GNC, HUS, SHV, JAN, JEF, JEF+, PCS, PCM, PEC, PES, PHB, PHC, PHD, SEW, TAP, VIP, VP3, & XXX(Singer)
Compatible with both PC and Mac computer systems

Mac users, please note that this hybrid CD installs a separate program version written for Mac, and does NOT need Windows

Software requirements: Windows(R) requires XP (32 bit) or Vista / Win 7, 8 (32 or 64 bit) and 10Mb of disk space Mac(R) requires Mac OSX v: 10.4 and up and 10Mb of disk space

Please Note:  Windows XP Users will not be able to adjust the size of the thumbnails
NEW!  Download the Manual Here.
There are no customer reviews yet...