SUPER SAVER ITEM:  NOT ELIGIBLE FOR FURTHER DISCOUNT.  
Promo codes do not apply to this item.
Your embroidery files WITHOUT the Embrilliance Thumbnailer. The file names are plain and non-functional!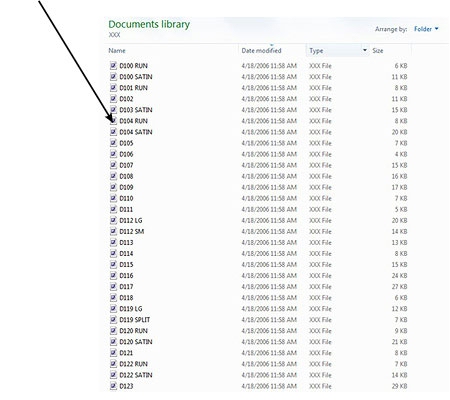 Now your creativity and productivity will flourish! With the Embrilliance Thumbnailer, you can actually SEE the embroidery designs! No more guessing what "Butterfly.pes" or any of your designs look like anymore!
Imagine yourself clicking on your My Documents folder. Then you click on a folder where you store you very large library of embroidery designs. (We know you have a large stash!) In the past, you would see a list of file names but no preview. Finding the embroidery designs was a challenge. How can your creativity flourish under such restrictive conditions? All you really want to do is find the perfect design from your library for your next embroidery project.
Wow! Preview Designs!
After installing the Embrilliance Thumbnailer software, I opened up a folder labeled Butterfly, where I store one of my favorite butterfly designs. I click on the file, and am able to preview the design on the right of the screen!
Wow! Control how you want to preview!
This software not only lets you preview the designs but you can control how you preview them! Take advantage of the preview options built into Microsoft Windows-like Extra Large Icons, Large Icons, Tiles and more!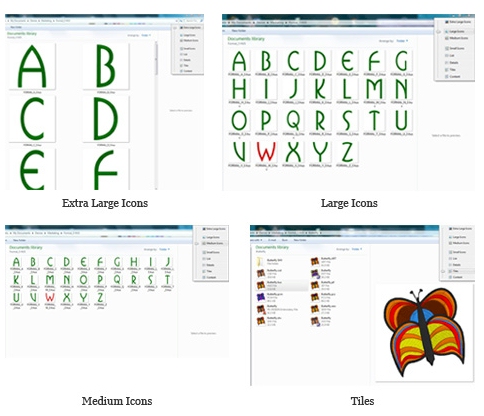 This software is a must-have embroidery tool for every machine embroiderer. Simple to install and even easier to use, you'll wonder how you ever functioned without it.
View the following embroidery design files:
ART, ART42, ART50, ART60, CND, CSD, DST, EMB, EMD, EXP, GNC, HUS, SHV, JAN, JEF, JEF+, PCS, PCM, PEC, PES, PHB, PHC, PHD, SEW, TAP, VIP, VP3, & XXX(Singer)
Compatible with both PC and Mac computer systems

Mac users, please note that this hybrid CD installs a separate program version written for Mac, and does NOT need Windows

Software requirements: Windows(R) requires XP (32 bit) or Vista / Win 7, 8 (32 or 64 bit) and 10Mb of disk space Mac(R) requires Mac OSX v: 10.4 and up and 10Mb of disk space

Please Note:  Windows XP Users will not be able to adjust the size of the thumbnails
NEW!  Download the Manual Here.





Judith from Olympia, WA
By Judith
Wow - this changes the way I find designs. No more duplicates - I can see things I didn't even remember I had. What a wonderful tool!







Embrilliance Thumbnailer
By Gayle from Sachse, Texas
Now you can do something you have been wanting to do,view your designs on your computer. This is a great product, so glad I purchased it. Gayle Sachse, Texas







Embrilliance Thumbnailer
By Margie from Malden, Massachusetts
This is a great product. It allows you to view your designs without opening any other program. It makes it so easy to organize your many designs quickly and efficiently. I am so glad I purchased it.







WOW! I am really impressed with this program!!! So easy!
By JEAN M from TAOS, New Mexico
After a few yeatrs of looking upo designs on my computer one by one, here is a reasonably priced solution. You load the program, go to your design files, click on view/thumbnails, and you can see the actual designs. A whole page of files at a time--Highly recommended. No need to catalog, just see pics and you know if that is the design you want. I am absolutely fascinated with how easy this is, and the amount of time it saves me!







By Cynthia From Auburn WA
By Cynthia from Auburn, Washington
I purchased the "Embrilliance Thumbnailer " software. I have to agree , this is a must have. I have purchased a lot of downloads for my brothers embroider machine and I had a hard time finding the design I wanted. And know it's a breeze. Just go to the folder were you have all your designs stored. And look at the thumbnail. and put it on your machine. It's just that easy. I recommend this to all my fellow embroidery buddies'. A very happy customer







Excellent Program & Time
By Judith from Fort Walton Beach, Florida





Excellent Program on Many Levels
By Judith from Fort Walton Beach, Florida
The Thumbnailer provides great graphics in lightening speed of the designs I have stored in my folders, enabling me to select just the right one for the project I am preparing and to keep from purchasing duplicates. It downloads quickly and easily and works like a dream.







Yelled At!!!!
By glennie from thomasville, Georgia
I purchases Thumbnailer in May. I was having trouble seeing my designs. I sent a message I needed help, I did get a phone call. The whole time Brian talked to me, excuse me, YELLED at me!!! He was VERY "smart" acting!!!! I have NEVER had anybody talk to me the way he talked to me!!!! I will NEVER buy anything else from this guy!!! He was just plain ugly!!! I am no computer whiz but I am no dummy either!!!! This guy lost a customer & I will never recommend his products again. I also have the Essentials Program. Every time I use this program I think about the way this guy treated me. He was just plain RUDE, I couldn't believe this guy yelled at me after I bought his products!!!! Enough said!!!!!!!!!!!!!!!







Extremely disappointed
By Mary from Midway,
I had to buy new computer and now my thumbnailer will not work with windows 8. I had been extremely happy with it until now and now I cannot see my designs unless I put them into my Janome 12000 Horizon program, I design at a time. Mary Carlton, Texas