SUPER BONUS COMBO!  This special download-only edition includes the Embrilliance Density Repair Kit & Enthusiast.  

Please Note:  Serial number will be made available after the order is placed.  To access your serial numbers, make sure that you are logged in and click on Order Status.  Click on the applicable order number - serial numbers are listed on the online invoice.  No physical product will be shipped. 
Click Here To Download (Opens in a new window - Direct link to Embrilliance Download Page)
Density Repair Kit
• Removes hidden stitches from within a design so that it will sew thinner, cleaner, and with less thread (and needle) breakage.
• De-Clumps design areas. These are areas that are over-sewn repeatedly with the same color.
• Filters small stitches from your designs that would otherwise create thread build-ups and jam the machine.
• Reduce the density in designs that were shrunk to fit a hoop.
• Increase the density of designs for better coverage.
• View the density of designs to see how they'll sew before expending time and thread on a trial.
• Limits the density of your designs based on the fabric and thread that you are using.
• Informs you of how best to embroider the project or fabric that you are working on. It recommends stabilization, hooping technique, needle type and size, and thread weight to help your project succeed.
• Saves you time and money. Reduced stitch counts save enormous amounts of time and thread usage. Proper density adjustments allow projects to complete successfully. With DRK, project time and thread savings of 15%-30% are common!
• Runs with or without Essentials, because it's so cool, everyone ought to have it! 
Density Repair Kit is so unique it has four patents!
The Density Map is a graphical display of the density, or stitches-per-inch in your designs. To see the Density Map, click the button on the main toolbar. This is useful to see if a design is not going to sew well. For instance, this is a design that has been accidentally overlapped outside of Essentials, thus its density is very high.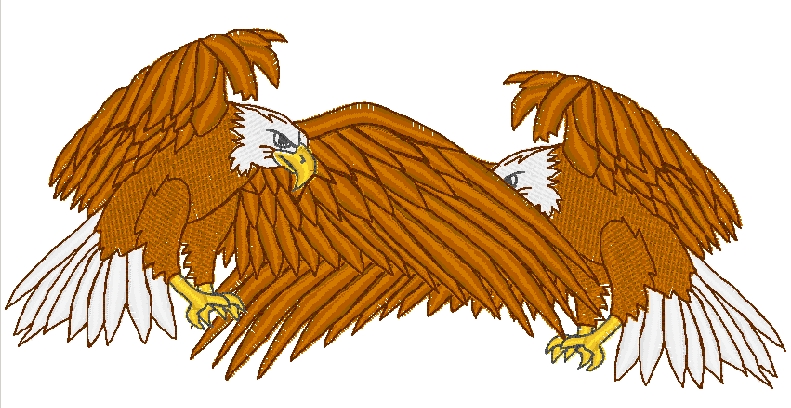 Like weather radar, the density map shows areas where trouble is likely: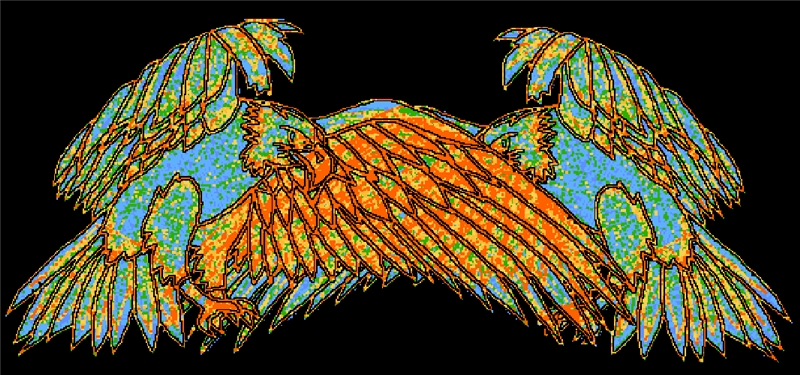 Where the design shows bright red in color, there are six layers or more of thread, which undoubtedly will produce poor embroidery results.
The Density Map can be used to illustrate when a design (probably from the internet) is dangerous to sew on a project without test sewing it first. And it also helps identify when you would want the Remove Hidden Stitches function or even the Sweep. Those features will remove stitches that are likely to cause poor design production, while maintaining the same visual design.
Learn more here.
Embrilliance Enthusiast
Once you have mastered the Essentials, you might be ready to play a little bit more, explore more advanced functions, and take on a little more challenge. If this is you, you might be an enthusiast. We named this program after you!
Check out these features:
Stitch editing
Multiple hooping
Baste Hoop
Precise Position
Mirror X 4
Instant repeat
Carousel
Scatter
Advanced Thread editor
Advanced Sizing controls
Advanced Stitch properties
Runs without Essentials, but when combined, a lot of easy-to-use fun can be found!

OK, I've Ordered The Software, Now How Do I Download It?
Thank you! Here is how it's done. First log in to your Sewforless.com account. Next, click on the "Order Status" link. This will bring you to a list of your orders. Click on the newest order. Once it brings up the order invoice, simply click on the

icon. Your software will begin to download!  It is in a zipped file, so you will need to extract (unzip) the different files.  Your serial numbers will be emailed separately.  Thank you!  Please Note:  There are no refunds on downloadable software.
There are no customer reviews yet...