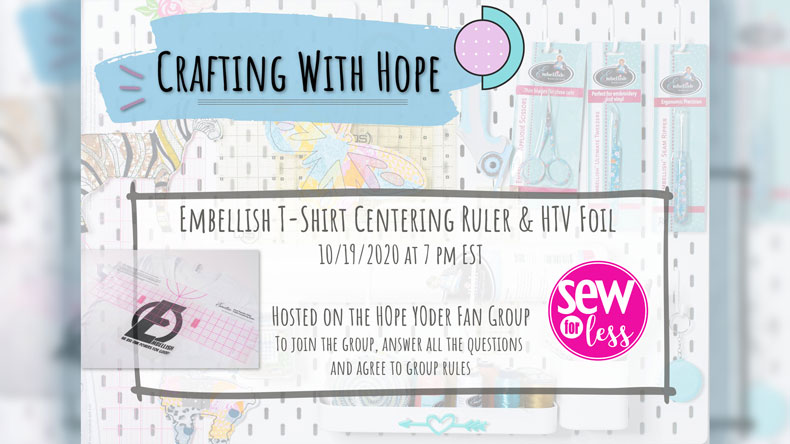 Make sure and join the group to craft along with us!  JOIN HERE
YOU GUYS! Here is your chance to learn from the AMAZINGLY talented (and beautiful) Hope Yoder! Each week we'll be hanging out and crafting and we want YOU to come along! So clear your Monday evenings and let's CRAFT together!!!
Topic: Working with Embellish Heat Transfer Vinyl T-Shirt, Centering Ruler, and Foil. We will be using CNC/Embellish Maker to add registration marks to a design making it easier to use the ruler. Homework below:
Have the Ruler ready and Embellish Heat Transfer Foil ready and in front of you on Monday. Here is a link to find out more and then search for a dealer who carries the ruler. 
Download and install the font "Brusher" https://www.dafont.com/brusher.font
Have the 264 SVGs CD installed in the HY Library inside of CNC software (this is the CD/DVD that came inside of your CNC box). To install, go to "file" and choose "Import Hope Yoder Designs." I made a video a couple of weeks ago on the fan page.
Other Supplies Needed: Embellish Vinyl Weeding Tool, RNK Embroidery Perfection Tape, a Quilter's Select Quilting Mat (larger than the T-shirt), and a T-shirt. 
If you are purchasing supplies from a store you may want to purchase a copy of my new Collection "Gnome For Christmas" as we will be working with the SVGs from this in a few weeks.