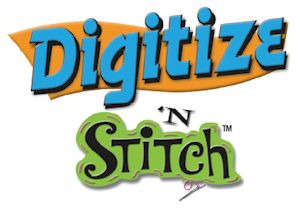 Download your FREE 30 Day trial now!
Auto-Digitizing Features
•Automatically convert simple digital images and artwork into your choice of complex fill, cross-stitch, appliqué, or combination complex fill/appliqué embroidery designs
• Easy to follow wizards guide you through the design creation step-by-step
• Merge a pre-digitized design with your newly-created design from one of the four wizards: Auto-Digitizer, Cross-Stitch, Appliqué, or Add Motif
• Open artwork files in your preferred graphic editing program for any touch-up before using the wizards
• Add unique style to your appliqué by using one of 301 icon designs or 188 decorative stitches as your appliqué stitch. Choose from a variety of borders including satin stitch, e-stitch, even shamrocks and stars!
• Design your own border or appliqué shapes or use any of the 40 built-in shapes
• Use the Magic Wand to instantly apply an appliqué to an entire design or portions of a design, creating multiple appliqués within the same design
• Re-sequence the stitching order of color segments
• Choose a cross-stitch size of 10 to 20 per inch so designs match perfectly with your Aida fabric
• Adjust the graphic file size to meet the size you want the finished embroidery design
• Supports a variety of digital artwork formats: Vector, AI, EMF, WMF, BMP, JPG, TIF, PCX, TGA
Convenience Features
• Detailed built-in help section assists you in learning and mastering many of the techniques and features
• Work with more than one design page at a time and cut, copy, and paste between those design pages
• Visualize any finished project more easily by selecting the Realistic Design Preview and a background color or fabric image
• Digitize 'N Stitch works on its own or within the Amazing Designs Edit 'N Stitch™ software platform for more advanced editing capabilities
• Serial Number is on inside front cover of the manual
Saves in the following embroidery formats:
• Outline File (BLF)
• Singer (Poem) (CSD)
• Tajima (DST)
• Elna/Singer (EMD)
• Melco (EXP)
• Viking (HUS, SHV)
• Janome/Kenmore (JEF)
• Pfaff (PCS, PCM, VIP)
• Baby Lock/Bernina Deco/Brother/Simplicity/White (PES)
• Elna/Janome/Kenmore (SEW)
• Singer PSW (XXX)
 
Recommended System Requirements
• Pentium III processor or above
• Windows® 2000 or XP
• 256 MB RAM
• 1 GB available hard drive space
• 1024 x 768 Video Display or better
• Mouse
• CD-ROM drive
TOP REASONS WHY DIGITIZE 'N STITCH IS YOUR BEST CHOICE...
1. Create distinctive Appliqué, Cross-Stitch, Embroidery, and Border designs all in one program using wizards that guide you through the creation process step-by-step
2. Easy to learn and use for beginners, yet offers many advanced features for the avid software user
3. Works either as a stand alone program or within the Edit 'N Stitch™ platform
4. Ability to save outline files for the best editing results within Edit 'N Stitch
5. Allows you to access Amazing Box MAX™ so when you save a design it can be written directly to the media required for your embroidery machine
6. Free reliable technical support— Digitize 'N Stitch offers a built-in help section as well as online and telephone support from in-house Amazing Designs experts
7. Free updates available online at www.amazingdesigns.com
There are no customer reviews yet...