PLEASE NOTE:  This collection is on a Multi-Format USB Stick.
If you cannot use aMulti-Format USB Stick, please call us toll-free at 1-866-739-2568.


Embroidery Designs Information:
---
Design Information

You will get a chuckle out of this adorable collection of playful mice. They hug, play among the flowers, dodge the rain, celebrate the holidays and even roast marshmallows!

Compatibility Information:
---
Multi-Format USB Stick compatible with most embroidery machines that have USB Stick capabilities and with Plug and Play computers (older operating systems may need additional drivers).
Contains the formats .art, .exp, .pes, .pcs, .dst, .hus, .jef, .xxx, and .sew. Due to hoop limitations all designs may not be available in all formats. Click
HERE
to use the Magician Sizing by Simon program to re-scale and convert designs to fit smaller hoop sizes. 

Other Information:
---
About House Mouse Designs

Ellen Jareckie was born in 1959 in Bennington, Vermont.  Currently in her spare time, Ellen rehabilitates a variety of orphaned and injured wild mammals and birds including the occasional mouse. Some of the animals you will see in the mouse designs are drawings of animals Ellen has worked with.
IMPORTANT: Please be sure you know what you are buying.  Once you open a software package it is not returnable.  We will gladly exchange any defective merchandise for the same title.  Be sure to double check all information on the package before you open it.  If you are still unsure, please contact Sewforless.com Sewing & Embroidery Product Advisors toll free at 1-866-739-2568.
Detail Example:

---
(Example may not represent actual size)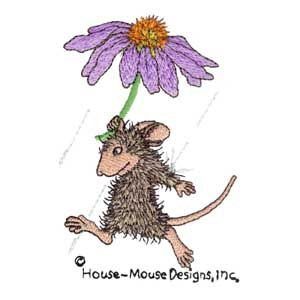 There are no customer reviews yet...