The bag to hold just about everything! Perfect as an everyday tote or craft carryall. Big enough to pack for a weekend getaway and great on the beach! Lots of pockets inside to hold and organize it all. Finish it with a zipper or without.
Materials List
Allow extra yardage to match or center a design on your fabric. The yardage amount listed is enough for a one-way design.

The Field Bag comes in two styles. "The Bag" has a Top Panel with a zipper and "The Tote" has an open top without a closure.

There are 2 options to make the Exterior. The first uses one print; the second uses 2 coordinating prints.

Either style can be made using 44" wide light to mid-weight fabric OR 54" wide mid-weight Home Dec fabric.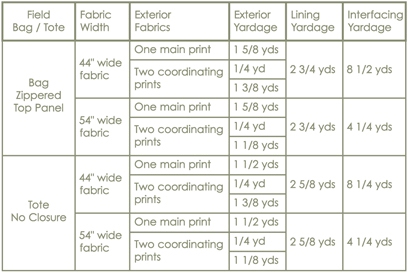 PLUS (for either the Bag or Tote)
-Fusible woven interfacing (we use Shape Flex® SF-101 by Pellon®).
Please check the chart for the amount required for the bag you're making.
-1 1/4 yards of 44" wide fusible fleece (we use fusible Thermolam Plus® from Pellon®)
-4 1/4 yards of (size 6/32") cotton cording (found in the home decorating department of most fabric stores)
-1 spool of coordinating all-purpose thread (we use Coats Dual Duty XP®)
If making the Field Bag you will also need:
-22" coordinating nylon Sports zipper (we use Coats brand)

Finished Size:  Field Bag - 18 1/4" wide at the top of the bag (27 1/4" wide at the widest point) x 15 1/2" tall (25" with the Handles) x 5 1/2" deep   
Field Tote - 17 1/2" wide at the top of the bag (27 1/4" wide at the widest point) x 15 1/2" tall (25" with the Handles) x 5 1/2" deep

TOOLS NEEDED: Scissors, Straight pins, Iron and ironing board, Pressing cloth, Ruler, Measuring tape, Wax-free Tracing paper from Prym-Dritz™, Pencil or fabric marker, Chalk pencil, Turning tool (such as a closed pair of scissors), Hand sewing needle, Zipper foot for your sewing machine OR Pearl / Piping foot (optional), Schmetz jean/denim sharp point heavyweight sewing machine needle size 16 (we suggest using the heavyweight needle for sewing the entire project).
There are no customer reviews yet...