The Magna-Hoop™ gently but firmly secures the item in the hoop eliminating the need of messy adhesive stabilizers and sprays. Embroider cuffs, collars, pocket flaps, specialty fabrics like velvet, Silk, leather and vinyl without the risk of hoop burn and more!
The Magna-Hoop Set also includes a 30-minute Insider Hooping Techniques Video and a 12-page full color instruction manual on the CD-ROM.

The Magna-Hoop™ is available for the following machine brands:
Baby Lock, Janome, Bernina Artista, Viking and Brother.
This product works on specific medium-sized embroidery machines.


---

Q: I have been told not to get magnets near my computer or computer disks. Isn't my embroidery machine a computer? Won't magnets damage it?

A: Extensive research has shown that the position of the magnets on the frame while embroidering does not cause any damage to computerized embroidery machines. This has been thoroughly tested with no adverse effects. The metal frame absorbs the electromagnetic pull which, while strong enough for hooping, is not strong enough to go through this field. Most home embroidery machines do not have magnetic fields in the actual embroidery module itself.

Magnets can damage magnetic computer data, therefore, use caution. Do not put them in direct contact with diskettes, and memory sticks. Some design cards are susceptible as well. To be on the safe side, watch where you put your magnets! The manufacturer of the Magna-Hoop does not take responsibility for damaged diskettes, memory sticks, design cards or other media that is damaged due to user error.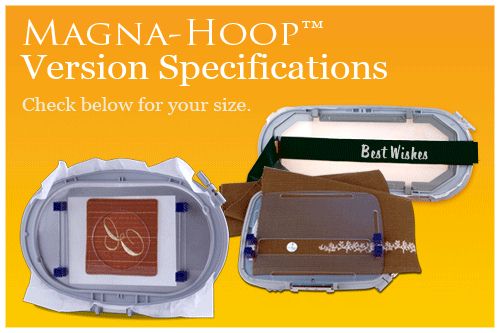 Hoop A:
Baby Lock and Brother

130 x 180 (5x7) hoop for:
Baby Lock Ellegante
Baby Lock Ellegante 2
Baby Lock Ellageo
Baby Lock Ellageo Plus
Baby Lock Esante
Baby Lock Ellure
Baby Lock Emore
Baby Lock Ellisimo
Brother Duetta 4500D
Brother Innov-is 4000D
Brother Innov-is 2800D
Brother Innov-is 2500D
Brother Innov-is 1500D
Brother Innov-is 1200D
Brother Innov-is 1000D
Brother ULT 2001
Brother ULT 2002
Brother ULT 2003D
Brother 6500
Brother 8200
Brother 8500
Brother PE 700II
Brother PE 700
Brother PE 750D
Brother PE 770
Brother PE 780
Brother Galaxie 3000

Hoop B:
Janome

Hoop B for:
Janome 300E
Janome 350E
Janome 9500
Janome 9700
Janome 10000
Janome 10001

Hoop RE:
Janome 11000
Elna 9500

Large Hoop:
Bernina Deco 330
Bernina Deco 340

Elna Hoop B for:
Elna 8200
Elna 8600

Hoop C:
Bernina Artista

145 x 255, Oval Hoop for:
Artista 185E
Artista 200E
Artista 630E
Artista 640E
Artista 730E
Aurora 430E
Aurora 440QEE
Aurora 450
Aurora Anniversary Edition
Hoop D:
Husqvarna Viking

240 x 150, #412 52-71
Designer SE
Designer I
Quilt Designer
Quilt Designer II
Platinum 955E
Platinum 950E
Platinum Plus
Hoop E:
Bernina Artista

155x200mm
Artista 180E
Artista 170E
Artista 165E
Hoop F:
Pfaff

Creative Hoop, 225 x 140mm
Creative 2170
Creative 2144
Creative 2140
Creative 2134
Creative 2124
Hoop G:
Singer

Futura Hoop, 4.56" x 6.75"
Quantum Futura CE-200
Futura CE-350
Futura CE-250
Futura CE-150
Futura CE-100





Magna-hoop Hooping aid
By Marilyn from Arcola, Illinois
Excellent product! makes embroidering some of those hard to hoop much easier







magna-hoop hooping aid
By Janice from Oak Ridge, Tennessee
I probibly have had my magna hoop for about a year give or take and it has really come in handy this holiday season. First I embroideryed on towlet paper for small gifts for the 7 girls at work. They just could not believe you could embroidery on towlett paper. (Guess they do not get out much) Next I used it for the white cuffs on santa hats I put names on 5 hats. Then I had drew names at work and I bought a hoodie that was fur lined and used it to embroidery 6 trolls and name on it. Everything I did in the magna-hoop turned out perfect. Although the jacket was more difficut because it was so thick.







magna hoop
By Terry from Chicago, Illinois
I just received mine today I was so excited I us it right away. I was very pleased with not having to hoop the sweatshirt or us sticky backing. This is what I've been looking for. Great product!







Magna Hoop happy
By Rebecca
I am so happy to have my Manga Hoop and just in time for me to do nine mens bowling shirts. This hoop makes life so much easier and if I get a new machine I will have to buy another Magna hoop. Can't wait to share with my sewing buddies.







Cheryl
By Cheryl from Sand Springs, Oklahoma
I think that the magna hoop is a great idea. However, i have a pfaff 2140 and the metal frame does not sit inside my frame. It seems to be too wide but fits in the length.







By Glenda from Kaufman, Texas
By Glenda from Kaufman, Texas
I just purchased the Magna Hoop for my Bernina Artista 200/730 and it worked just like I thought it would. I am using it to embroidery the DigiBobbe bobbin designs.







Magna Hoop for Bernina 730
By Debra from Franklin, Massachusetts
I do love the idea of the Magna hoop. I have used it a few times and am getting better at it. I think it will get easier as I use it more often. I did purchase additional magnets.







Magna Hoop for Bernina 165E
By Patricia from Jeffersonville, Indiana
OOOOH MYYYYY what a wonderful invention! It came in 4 days after ordering, now that is QUICK! I am a very happy customer! The 1000s of free designs are great and would be very pricey! Pat in southern Indiana







magna hoop
By Joanna from Newfield, New York
I love the Magna Hoop except for one thing - I use a lot of Polar Fleece and the magnets don't hold very well for thick fabrics. They should be taller.







Magna Hoop for Husqvarna Viking
By Barbara from Carrollton, Kentucky
Love it! Love it! Only wish I'd gotten it sooner







Magna-Hoop
By Sharon
I received mine on Monday, and got right to work on monogramming some polo shirts for a neighbor to use at work. It made the job so easy, no stretch, no hoop marks. It was actually much easier to align the chalk lines on the shirt with the template so they were exactly where they needed to be.







Magna-Hoop
By Gretchen from Aurora, Ohio
This makes hooping so easy and Sew For Less gives excellent service.







Magna Hoop
By Debbie from Selmer, Tennessee
I think I'm really going to like this for t-shirt logos.







By Nancy from Indiana
By Nancy from Haubstadt, Indiana
I Love mine! It came in just in time to start on Christmas Pojects. I use it for my applique.







Magna Hoop
By Suzanne from Central Falls, Rhode Island
Just Love It!!! So easy and fast to hoop. Great when you are embroidering borders too. Now I am going to get the jumbo magna hoop so I can hoop bigger projects faster. Fast shipping and great service from the dealer. Would definatly buy from here again.







Magna Hoop
By Gloria from Chesapeake, Virginia
It Works! I used it on a fleece scarf and the Magna hoop worked. The design came out great with no hoop burn. I got hoop C for Bernina. The metal ring is a little tight but fits.







Magna Hoop to the Rescue
By Nancy from Wellsville, Pennsylvania
I continued to use spray and prayers for three years hoping Santa would deliver a Magna Hoop to my house. I finally bought myself a present and have no regrets. If you're waiting and hoping, just buy it while it is still on sale!







Magna hoop
By Sonja from Bradenton, Florida
I am really enjoying using this item. It does make hooping your item a snap, and it is very easy to use. I am using it with My Viking Quilt designer II machine.







LOVE LOVE LOVE
By Rosemary from Corryton, Tennessee
I dreaded sitting down to embroider. Hooping was a nightmare for me! Got my Magna Hoop for Christmas! What a dream! Got the software and the Jumbo hoop too! Only drawback was the free designs are the same with both hoops. If I had know I would have hubby order free projects with other hoop. My bad. Get one! Will make your embroidery time a breeze! No more sticky spray on EVERYTHING!